So, how do you make it easy for people to send you referrals?
In my worldview, you start by thinking about two primary elements:
First, you need to get really, exceptionally specific on who you want your referral sources to refer to you
Second, you need to build the resources, assets, etc., that make it easy for people to send you referrals

Getting Specific On Referrals
Before you start asking for referrals, you need to understand which clients you want more of.
The wider you make your criteria (e.g., 'anyone with a business!'), the thinner your referrals will get. Why?
When you're less specific about who you want your referral sources (people, groups, organizations, colleagues, or clients) to refer to you, you offload the cognitive load of thinking through who would be an excellent fit to your referral source.
And when you hand that work over to your referral source, you make it harder for them to send people your way, and you end up receiving fewer referrals.
Thus, the first step for you is to clarify who you want your referral sources to refer to you. Is it everyone? (Hint: nope.) Or is it a subset of people who are like your best/highest spending/most enjoyable clients? (Hint: yup).
Once you get specific, you can start communicating this to your referral sources.
At a minimum, you want to get clear on:
Who you help (e.g., Shopify store owners doing 7-figures in revenue selling pet supply products!)
How you help/what problems you solve (e.g., help you outrank your competitors and get found in Google by people who need your products, content, and resources)
How to get in touch (e.g., fill out this form and…)

If all you do is take a few hours to get specific on who you want as a referral and then take the time to tell a dozen or two dozen people in your network about who to referrer to you, you'll start to get more referrals.
But there's another part to this approach that will help you get even more referrals (and make it even easier to refer people to you).
Building Referral Assets
By assets, I don't mean "Ye Olde Plaque Hanging In The Dentists Waiting Room Asking You To Tell Thy Friend!"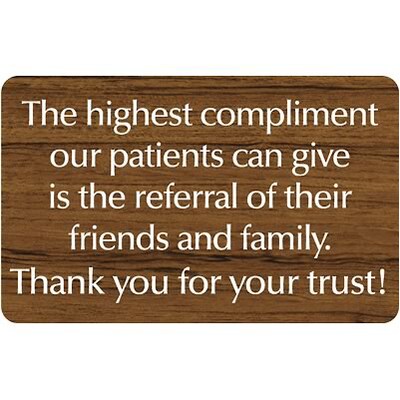 A Referral Asset could be something like:
An email signature, clearly explaining who you help + what you do + how to connect someone with you
A /referral/ page on your site, outlining who you work with + how you help + how to get in touch
A PDF leave behind that outlines your services and who is (or isn't) a good fit
A piece of post-engagement collateral that outlines how your client can connect you with their associates or colleagues who may need your help

And so on. The magic about these assets is that you can write them once and then use them many times to help educate people on who makes a great referral and how to send referrals to you.
Inside Referral Systems — my video course on how to make it easy to get referrals — you'll get access to a dozen videos on referrals, a quick-start guide, AND my collection of notes, resources, and templates to build your referral assets, including resources on:
Your referral page (for a /referral/ page on your website)
Your referral "leave-behind"
Your referral email signature
Your referral email introduction template

If you want to make 2021 'The Year of The Referral' for your business, then Referral Systems will help arm you with knowledge, tactics, strategy, and assets.
You can read more about Referral Systems right here: kaidavis.com/products/referral-systems/
Excelsior!
Kai
I write a high-quality, daily newsletter about marketing, growth, and lead generation for indie consultants, freelancers, and service professionals.